We've Got Some Reissues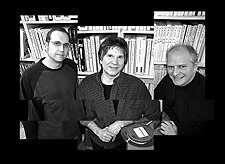 Everything old is new again (l-r): Jeff Smith, Bob Irwin and Tim Livingston of Sundazed Records.
photo:Teri Currie
By Erik Hage
In sleepy Coxsackie, a record label thrives on a down-to-earth business ethic, a solid reputation, and a treasure trove of music from the '60s
In the lower village of Coxsackie, down a hilly street and flush up against the banks of the Hudson (close enough to feel the river's icy breath on this February day), one gets a strong sense of the past. The little block of buildings with ornate cornices and brick storefronts—some gainfully employed, some not—serves as strong reminder of a once economically prosperous, bustling river community. Many river towns such as these dot the Hudson.
This is a section of river shore that once launched freighters packed with farm produce and locally harvested ice blocks. A ferry once tooled across the river, hauling passengers and wagons across the shortest crossing between Albany and New York City. In some ways, the village is distinctly Upstate New York: an undeniable mix of postindustrial funk and historical poignancy.
Sundazed Records, which occupies two different anonymous storefront buildings on the street, has long been here, wrapped up in another brand of history. As arguably the premiere reissue label in the world, Sundazed harvests a different kind of past—the vibrant colors of the '60s—rereleasing lost treasures of garage, psychedelic, surf, country, soul and rock & roll.
And with all respect to the mighty Hudson, the label has found prosperity down new pathways (domestic/international distributors, mail order and the Internet). From its nook in Coxsackie, the label boasts a strong presence in the United States and has three distributors in Canada, two in the United Kingdom, two in the Netherlands and four in Japan (in addition to distributors in Australia, the Baltic states and Russia). In a music market experiencing a downward spiral, Sundazed, from all accounts, is thriving; the label has grown tangibly and consistently since its inception back in '89.
Sundazed's monstrous list of reissues includes vinyl and CDs by everyone from Bob Dylan to Nancy Sinatra to the Byrds to Wilco to Gram Parsons to Buck Owens to Sonny and Cher, to name a very few. And this is not to mention endless, once-untapped cult-classic titles from the '60s (by the Box Tops, Skip Spence, the Trashmen, the Remains, Spirit, Davie Allen—the list goes on).
Sixties psych/garage/surf/kitsch was once the label's primary M.O., but owner-founder (and Coxsackie native) Bob Irwin points out, "We've spread out musically what we're doing, and also have crossed a lot of genres and age barriers. We're not simply selling oldies to the 55-year-old guy; we're selling great music to 20-, 25- and 30-year-olds." But, he notes, "We've managed to keep the personality of the label intact."
That personality is immediately evident once one is swept in off the frigid, gray streets and into the tastefully modern creative offices (quite a contrast to the outside look). This tight-knit, down-to-earth-yet-professional atmosphere of music lovers is a far cry from the boardrooms, cubicle farms and focus groups that typify many successful record labels.
On the first floor, Irwin—the spirited, boyishly handsome founder of Sundazed—is holding emphatic court with graphic artist Jeff Smith about a Donovan box set that Irwin is currently mastering (in close conjunction with the singer himself) for Sony/Legacy. (Sony and BMG frequently seek out Irwin's steady hand and attentive ear. He has produced and consulted on numerous projects, including the Byrds, Santana, Janis Joplin and George Jones, to name a few.) Irwin has all of the excited, magical spark of a teenage record-store clerk.
On the "homicide" board over a small conference table on the wall across from him are numerous hand-scrawled Sundazed projects in various stages of development. "In the past three years we've done between 80 and 90 titles a year," Irwin says. "It's a good problem to have: Our consumers want so much stuff from us that we found ourselves in this frenzy where we were putting out so many things, [but] we were not really enjoying the process the way we used to."
Irwin claims the goal this year is to cut back 30 percent of the label's releases so that they can really focus on and appreciate the individual projects. It's rhetoric like that, which adheres to a different kind of bottom line, that makes this clearly not your average record label.
Upstairs, a small group of sales and publicity staff are at work in a gorgeously airy loft space distinguished by shiny fixtures, brick walls and attentively restored, burnished woodwork. On looks alone, it could be Soho. (The predominant employee mode of dress: casual and black; the predominant attitude: friendly and down-to-earth.)
Three years back, Sundazed expanded into this second building; Irwin designed the interior himself, over the course of a year transforming it from a hulking, vacant monstrosity with floors falling down on top of one another to a tasteful state-of-the-art space sufficient enough to support the company's completely in-house philosophy. Everything, from graphic design to Irwin's studio production, is done on the premises.
Publicity and sales director Tim Livingston—an affable, earthy guy in his own right—gives me a thorough tour of the building, and it's a dizzying experience for a music lover, with everything from walls of master tapes to three state-of-the-art studios on a top floor passing before my eyes.
Irwin, Livingston, Smith and I finally settle down to talk in Studio A, the largest production room, which has a classy, comfortably vintage aesthetic (outfitted in tube gear and analog). This is Irwin's domain, a place in which he spends countless hours plying his craft. And his sense of joy in this—his world, his family—is palpable and infectious. Irwin has known Smith since they were both in music retail in the Capital Region in the '80s; Smith did some of the earliest artwork for the label. Irwin's wife Mary, who heads up the business side of things, also stops in at one point for a brief introduction.
"We will probably never live long enough to get everything out that we'd love to issue," Irwin notes regretfully. One "problem" is that Sundazed's widespread reputation as a reissue company puts Irwin in the enviable position of often having projects dropped in his lap. A 180-gram vinyl LP version of Wilco's much-lauded Yankee Hotel Foxtrot (released after much industry drama and a move from Warner/Reprise to Nonesuch) was one such project. Irwin says that the group mixed an analog version at Abbey Road Studios, all the time intending a vinyl release. "[Wilco leader] Jeff Tweedy was a fan of Sundazed, and he and his management brought that record to us."
Livingston adds, "He knew we did a beautiful job on vinyl based on the Dylan and Otis Redding stuff." (The group's label, Nonesuch, retained the vinyl rights to the recent follow-up, A Ghost Is Born.)
The Bob Dylan material arose from similar circumstances. Dylan's manager called Sundazed a couple of years back, during the spate of CD reissues of his albums. As Irwin remembers, "Dylan was interested in getting some of his rereleases out on vinyl. His manager [with whom Irwin has a good relationship] called and said Dylan would really like them to be on vinyl: 'Are you interested in doing them?'" The studio erupts in laughter at the absurdity of the question. (Note: Sundazed distinguishes its releases as "180-gram" vinyl. A standard vinyl LP is 125-grams; the heavier vinyl aids in better sound reproduction and is favored by audiophiles.)
Nancy Sinatra also brought her catalogue to Sundazed to release on CD, and Boots, to this day, is the label's best seller (though Livingston notes that Skip Spence's Oar, that hallowed acid-drenched suite of campfire-hippy- cowboy songs and emerging schizophrenia, is "pounding up there").
Irwin started out in the music business in retail, moonlighting by working with Rhino Records. When a Rhino exec suggested that Irwin ought to get into the reissue game for himself, Irwin made the leap, and Sundazed released its first discs in '89.
After some success and press attention from the likes of The New York Times, "Really quickly we realized that [the business] no longer fit in the dining room of my house. . . . The time was approaching where I was going to have to swim into the deep end. If I was going to do this, I was going to have to leave my job and see what happened."
"In the first few years it involved Mary and I mortgaging our house, taking every penny out of life savings, taking every penny that came in and putting it back in and the willingness to live on peanut butter or whatever for the first couple years."
But there were enough signposts along the way to know the move was right. Growth came incrementally; the company collected accolades, steadily sold records and moved into new genres. All the while, Irwin and co. followed their musical hearts, not graphs and charts. "It's a music- and A&R-driven company, not a marketing-driven company," Irwin claims.
Indeed, many larger companies would dismiss much of the Sundazed catalogue as oddballs or obscurities, letting them fall through the cracks when the world moved to CD and passing on later chances for a reissue. But "obscurity" is relative, especially when Sundazed can move more than 20,000 copies of such outside-the-grid fare as the United States of America's 1968 self-titled album, a mind-bending blend of psychedelia, avant-garde and electronica that sold little in its time.
The label has heard its songs in such movies as Vanilla Sky and on such programs as The Sopranos, has been written about in publications such as Billboard and GQ, was voted best record label last year by Vanity Fair—and among its regular customers are important tastemakers. Livingston notes, "We're getting orders monthly from [R.E.M.'s] Peter Buck, Matthew Sweet, people like that."
Irwin says that one of the things that contributes to their success is that they "always involve the artist, or estate, as much as possible" in the process. He says they also let them know up front: "We're going to be 100-percent honest with you, and if we feel as though you're making a mistake or a wrong choice, we're going to tell you about it—they always appreciate that."
He says that reputation, and a reputation for paying artist royalties on time, has led to snowballing opportunities. "Once that got out there, we were in the enviable position of having people bring catalogues to us."
But perhaps the most remarkable thing about Sundazed is that, despite national and international success (a peek inside the warehouse and shipping center drives home the scope of the label's achievement), Irwin plans to stay put, right down there by the river, right in little Coxsackie, for any foreseeable future.
Irwin recalls: "When we bought this building down here with this amazing river view, we found that when artists came to see us, they loved it—the Hudson River, the Catskill Mountains, the best bar in the world right around the corner. We always, from that point on, knew that this is going to be where it was."
And perhaps they're influencing the little community in even more subtle ways: As I leave the Sundazed headquarters and head back up the block in a small snow flurry, I pass a tiny café a couple of doors down that is piping the garage classic "96 Tears" (by ? and the Mysterians) out on to the relatively empty block. Coincidence? I think not.
ROUGH MIX

To the rescue: (l-r) organizer George Kansas, Mayor Jerry Jennings, organizer Don Dworkin and Palace Theatre general manager Jeff Yule.
photo:John Whipple
LOCAL LIVE AID Last Thursday (Jan. 20), Mayor Jerry Jennings and bands Sirsy, Hair of the Dog, the Burners UK, Doc Scanlon's All-Star Revue and the Brian Kaplan Band got together at the Palace Theatre for a press conference to announce an upcoming benefit concert, called Rock 2 Rebuild, to raise money to help victims of the unfathomable tsunami that hit Southeast Asia last month. All above-named bands, plus a plethora of others, will be on hand to perform. Organizers promise that in addition to the extensive musical bill, the event will also feature surprise celebrity presenters and entertainers to keep the audience engrossed between sets. Also, additional live music will take place in the Palace lobby by the Delmar Caffeine Crew and others yet to be announced. A correlating art exhibit, the Art of Relief, works by local artists and children on the theme of the tsunami tragedy, will be on display. One hundred percent of ticket-sale proceeds and donations will go to tsunami-relief funds established and administered by Save the Children and Habitat for Humanity. Rock 2 Rebuild will take place on Friday, Feb. 11, at the Palace Theatre (19 Clinton Ave., Albany), from 7:30 PM to 12:30 AM. Tickets for the concert are $10. For more information or to donate to the cause, call 456-6363 or visit www.rock2rebuild.com. To order tickets, call 465-4663 or visit www.palace albany.org.
A BAND BY ANY OTHER NAME First there was Sean Rowe, a terrific singer-songwriter with great catchy songs like "A Snake in the Grass" that made his numerous live shows extremely popular. Then Sean Rowe met Marco Haber, a percussionist whose instruments of choice are the djembe and the doumbek—you gotta see this guy in action—and the two like performing together so much that they combined forces to become the Sean Rowe Project. Well, that name stuck for a while, but now the duo have decided to change their name once again. The new name—drumroll, please—is Mudfunk. In addition to their active gig schedule, Rowe and Haber will heed the numerous requests from their fans and hole themselves up in the studio through next month to record a new full-length album. They have yet to come up with a title, but speculation on their Web site is that the CD will be self-titled. They hope to have it ready for public consumption by early summer. In the meantime, you can listen to some live tracks recently recorded for a 104.9 radio show by visiting www.mudfunk.com. Catch Mudfunk at one of their gigs this week: They play tonight (Thursday, Jan. 27) at the Bayou (507 Saratoga Road, Glenville) at 8 PM; tomorrow (Friday, Jan. 28) at the other Bayou (79 N. Pearl St., Albany) at 5 PM; and Saturday (Jan. 29) at O'Callahan's (14 Phila St., Saratoga Springs) at 8:30 PM.
MMM, ERFY Our local piano-tuning, bass-playing darling Jonathan Cohen has announced the completion of the Erftones' third album, Dispatch. The new CD is chock-full of local talent: Besides Cohen on bass, you'll hear Chad Ploss (of the Refrigerators) on drums, Keith Yaun on guitar, Brian Patneaude on tenor sax, Tim Williams (of the Refrigerators and Sensemaya) on alto sax, and Ben Acrish (also of the Refrigerators and Sensemaya) on trumpet. The album was recorded in the summer of 2004 by Seamus McNulty (check his business out at www.mumblesound.com) and mixed by John Delahanty (www.scarleteast.com) at Scarlet East studios in Albany. It was mastered by Larry Devivo (www.silvertone mastering.com). It's available for sale in Albany at Border's, Barnes & Noble, the Music Shack, Last Vestige and BlueSky Studios, and online at CDBaby.com. For more information on the new CD, visit www.erftones.com/dispatch.
WE ARE NOT DEMONIC ANDROIDS Local funk-rock group Honeycreeper's debut full-length CD, Freakqualizer, was released on Jan. 4 on Planet A Records. Honeycreeper, made up of frontwoman Mandy Beck, Dan Beck, Sean Fortune and Seth Fisher, describe themselves as a "dirty, nasty, sexy, sweaty high-energy rock band that's funky as hell." Nasty is right—Mandy Lu says in her bio on the Honeycreeper Web site that she's a Taurus, and therefore has violent mood swings and paranoia. Freakqualizer can be purchased at the band's Web site, www.honeycreeper.net, and amazon.com, cdbaby.com, and, of course, at Honeycreeper shows.
ALMOST FAMOUS Speaking of new CDs, the Velmas released what they are calling a double EP (half of the songs are previously unreleased tracks and half are tracks recorded from live shows) on Dec. 28. The new CD, called Recess, includes the song "Restless, Restless," which was selected out of thousands of entries as one of the top 20 finalists on Howard Stern's much-publicized "Restless, Restless" contest—they even had a clip of their song played on Stern's radio show last summer. For more information, visit www.thevelmas.com.
PARTY AT THE SKATE PARK Albany's Shelter Skate Park (30 Commerce Ave.) will host an eclectic art show tomorrow (Friday, Jan. 28) at 7 PM. The free event features the works of local artists Greg Dunn, Stain and Tommy McGuire. Also, organizers are encouraging any interested people to bring in their art and display it. The event will also include a record swap, break dancers and local DJs. Contact the Shelter for more information at 438-2234 or e-mail ryan@theshelter.com.
—Kathryn Lurie