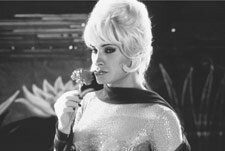 Femme fatale: Bernal in Bad Education.
Let's Play Make-Believe
By Ann Morrow
Bad Education
Directed by Pedro Almodóvar
In Bad Education, the moving and dankly compelling new film from Pedro Almodóvar, the masterful script adheres to the conventions of film noir, but that's the only conventional thing about it. The secret crime here, the one that poisons the characters' lives through the decades like radiation, is child molestation. The perpetrator is a priest at a boy's school, but he's portrayed with more complexity than a mere monster. And the boy, Ignacio, a 10-year-old with the voice of an angel, is not presented as a victim—though by the saddening climax, we realize how deeply he's been damaged. Ignacio's violation informs every scene, but the film is more about conflicting layers of identity and reality, and how a person's soul can get trapped within them. In one of its most powerful scenes, the predatory Father Monolo (Daniel Gimenez Cacho) commands Ignacio to sing a song he's written in which he compares himself to a gardener who nurtures blossoming flowers. As we can see by Monolo's rapt expression, he really believes this delusional vision of himself.
Bad Education opens about 20 years later, when the grown Ignacio (Gael García Bernal), an actor, arrives at the office of Enrique (Fela Martínez), an up-and- coming filmmaker. Desperate for an idea for his next script, Enrique is ripping out articles from the tabloids in search of inspiration. He doesn't recognize Ignacio, although in boyhood they were best friends and lovers. When Enrique tells him he doesn't have a film to cast, Ignacio gives him a manuscript he wrote called The Visit. "One part is based on my childhood, and one part isn't," he says. The film's element of mystery lies in which is which, but eventually, Ignacio's life will catch up to his fiction.
As Enrique reads the story, it comes to life on the screen in a series of flashbacks. Ignacio's alter ego is Zahara (Bernal), a junkie drag queen who hustles a drunken young man only to discover that he is Enrique, her childhood sweetheart. Fascinated, the real Enrique decides to film the story; Ignacio, who insists on being called by his stage name of Angel, wants to play Zahara. But Enrique wants him to play Enrique, arguing that he is too manly for Zahara. They reach a tense agreement that unravels as The Visit continues to unfold. The plot not only thickens, it replicates: Each layer reveals another layer, with characters being played by different actors at different times. Yet because of the film's clarity of purpose, it's easy to follow. (Whether or not Enrique is a stand-in for Almodóvar isn't of much import, especially since all the characters are escaping into make-believe, whether shooting a film or writing a story or performing in drag.)
The director's use of easily recognized settings—beautifully run-down places such as the ancient school and a shabby theater—helps to keep the narrative on track, and since this is Almodóvar, the frayed edges of Spain are goosed with neon color, most noticeably Zahara's slinky, lime-green dress. Bad Education also exhibits the strongest gay sensibility Almodóvar has shown so far. The acts of hustling are brazenly seamy, and both hunky Bernal and willowy Martinez are shown to erotic advantage. Bernal (The Motorcycle Diaries) has become a sensation—and he lives up to the hype with his showy yet exquisitely nuanced portrayal of the imaginary Zahara—yet Martinez, as the reticent Enrique, proves to be his equal in screen presence.
Almodóvar lets his presence be known, too, with his visual flamboyance. During a soccer game at the school, the priests kick their robes into the air like wings, an unnerving image considering their oppression of the boys. But after the discreet treatment of Ignacio's molestation, the director intrudes on the aftermath by tearing a screen image of the boy's bleeding face in half, jarringly calling to mind the opening scene of Enrique tearing pages in a tabloi
Then again, the tabloid story—about a woman who commits suicide by embracing a crocodile that devours her alive—can be seen as a symbolic one. For Ignacio and those around him, the past is like a crocodile.
You Belong Together

Hitch
Directed by Andy Tennant
Finally, a movie in which Will Smith gets to be a romantic, albeit funny, lead. No longer chasing robots, or fleeing from animated, Godfather-esque sharks, Smith is Alex Hitchens, the eponymous character in Andy Tennant's Hitch, who as New York City's "date doctor," helps poor everyguys make it from date one to date three with the seemingly unattainable gals of their dreams. While the previews play up the ha-ha factor of Hitch's own disasters when it comes to courting the lovely gossip columnist Sara Melas (Eva Mendes), the movie is not so much a series of pratfalls as it is an intelligent, warm, romantic comedy.
In classic Doris Day-Rock Hudson fashion, Sara falls for Hitch, despite the fact that (a) she's gun-shy when it comes to relationships and (b) she's working double duty to investigate the "urban myth" of the date doctor. You know it's only a matter of time before she realizes that Hitch is, in fact, her subject, and that when this happens, it'll be messy and spell certain doom for the couple. This time, at least, it's worth watching. Not only does the Hitch-Sara setup implode, but so too does that of an appealing couple Hitch has worked with, nebbish accountant Albert Brennaman (Kevin James) and glam philanthropist Allegra Cole (Amber Valletta). One of the very appealing things about this film is just how much we root for all these characters, including Sara's sad-eyed friend Casey (Julie Ann Emery). This is a rare story in which the characters not only have work lives, albeit pretty exciting ones, but committed friendships. In fact, it is Sara's friendship to Casey that accidentally leads to the film's climactic (yet necessary, from a romantic-comedy point of view) misunderstanding.
Smith and Mendes work extremely well together, especially during their "meet cute" scene in which they tell each other what they would be saying if they were really checking each other out. The romantic tension is palpable, and even the most jaded viewer can't help but smile. It should be noted that Hitch makes it quite clear, in an early encounter with a piggy metrosexual, that he does not pimp his clients, nor does he work for cads. Somehow, because it's Will Smith, the viewer finds it believable that all of this engaging consultant's clients would, of course, be clean-minded chaps. Valletta is refreshingly natural, easily mocking her supermodel image with a believable down-homeness—even revealing a goofy streak. The scene-stealer, however, is James, who makes the leap from small screen to big in a way that has been likened to the great Jackie Gleason. It's not just the girth, but the seemingly incongruous physical grace, as well as the exquisite timing and vocal inflections. By now, nearly everybody with access to movie previews has seen James doing his "black" dance moves, but the actor gives his character much, much more than "cuddly fat guy" attributes. I can't believe I'm writing this, but I mean it: I'd happily plunk down $10 to see chapter two, in which Hitch and Albert settle down to being settled down.
—Laura Leon